Chelsea FC Awards
We love to work at the home of the champions – Chelsea football club!
We are proud to work in partnership with Chelsea Football Club, to ensure that their synthetic pitches are always match-ready.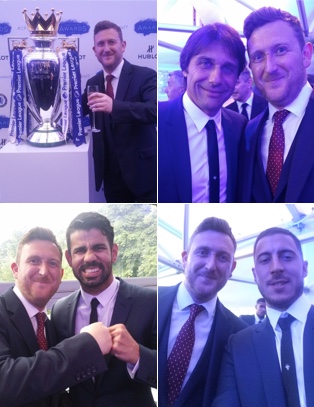 We were thrilled when Chelsea won the 2016-17 Premier League title; so you can imagine our excitement when we were invited to attend the Chelsea Football Club Annual Awards. It was a fantastic finale to Chelsea's 2016-17 championship season.
Lots of players got a big pat on the back for their achievements on the pitch. Eden Hazard was named Chelsea Player of the Year for the third time – he certainly was a very happy chap.
Our team member, Mark, enjoyed rubbing shoulders with the players and getting a glimpse of their Premier League trophy. Thibaut Courtois stopped to say hello, as did Diego Costa and Eden Hazard. Mark bumped into the brilliant first team head coach too, Antonio Conte. It was a great evening, celebrating a great team!
Well done, Chelsea!
Save
Save